290 DEAD IN SRI LANKA CHURCH BOMBINGS
Greetings sports fans and welcome to my second Easter Sunday morning edition of Vegas Valley Sports Beat. The little column that is not perfect just forgiven and saved by grace. I know that I am only alive by the Grace of God and not sleeping out in the rain even if I have to crash on a friend's living room floor. I've slept in the pouring rain and I've slept with my head on a pillow made of concrete and stone. I've got a mansion just over the hilltop and I'm almost home though.
Let us turn our attention to world news now, and the eight, or more, bombs that went of this morning during the Easter Sunday Mass in Sri Lanka. The bombing attacks on 8 different churches and tourist hotels in Sri Lanka is just foul. The last report I saw said 207 persons were dead and at least 450 are reported injured in the Easter Morning attacks that were obviously planned coordinated and carried out by a large number of people. Why seems obvious enough. Sri Lankan authorities have imposed an island-wide curfew while first responders and emergency personnel try to get things sorted out. While The Spectator Index posted this on social media.
BREAKING: Sri Lanka declares nationwide curfew that begins in three hours
2:20 AM – 21 Apr 2019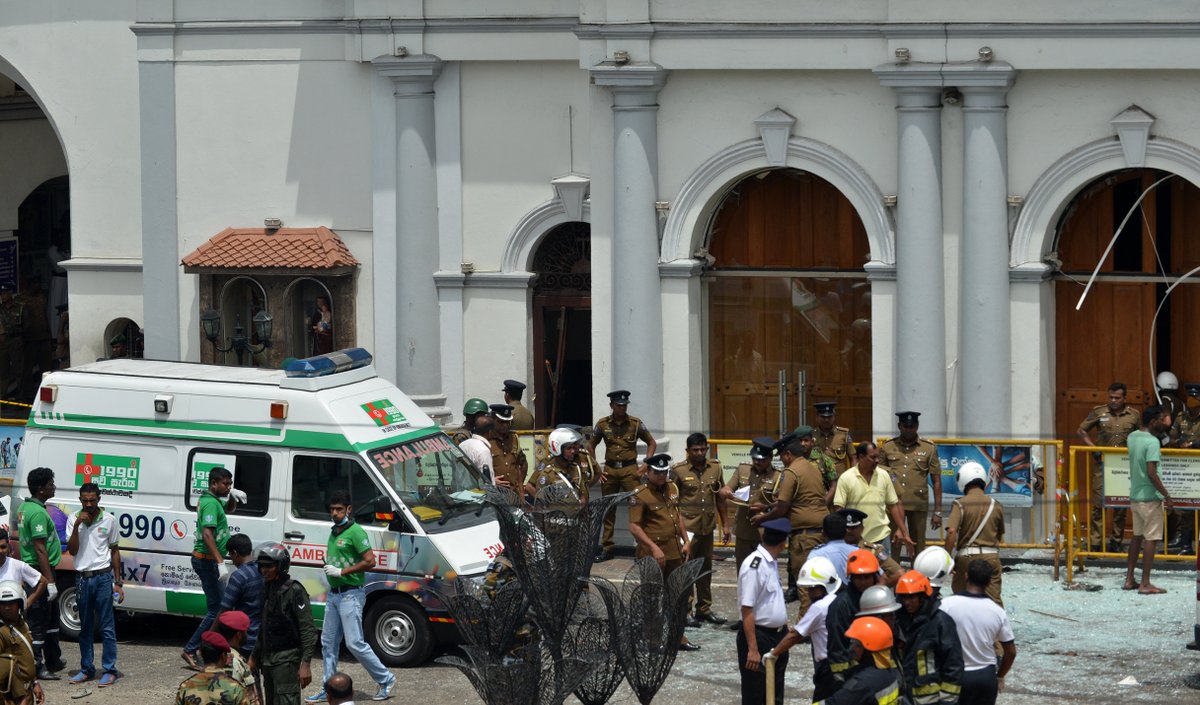 People are of course in shock all over the world as the news travels around the world at the speed of light in the 21st century. Comments have ranged from, "someone please tell me what is going on?" to calls for peace and prayers for those killed, hurt and dying.
So far no person or group has claimed responsibility for the 6 coordinated blasts set off at 8:45 am in 6 different churches. Hemasiri Fernando the Defense Secretary said just after the attacks that some of the explosions were the result of suicide bombers going off.
Reports state that the Sri Lanka Government has received threats against churches recently but the warnings said nothing about targeting hotels too. Ruwan Gunasekera stated that at least 30 foreigners were among the victims that were killed.
Ruwan Wijewardene, Sri Lanka's Information Minister told the press that those who are responsible for the blasts have been identified and claims that seven people have been detained by police as of this time. He stated the social media platforms like Whatsapp and Facebook would not be available for the public.
The luxury hotels Kingsbury, Shangri-La, and the Cinnamon Grand were named as targets of the bombings. It is expected that the majority of foreign tourists killed were staying at those establishments. All Easter services and Mass have been canceled according to the Catholic Diocese in, Columbo, and the Minister of Education announced that schools scheduled to reopen Monday are to remain closed through Wednesday.
In all of the history of Civil War Sri Lanka has seen in the past 26 years the nation's small Catholic/Christian population has been relatively untouched by the 100,000 people who died during that time. Sri Lanka is 70% Buddhist, 12% are Hindu and 10% are Muslim 6.5% are Catholic  It is abhorrent to any right-thinking person to bomb a church for any reason.
It pretty much follows that the Notre Dame fire will be looked at sideways by a lot of the same people who have been looking at it as a deliberate act of terrorism all along. Even while the world-famous Notre Dame Spire fell in Paris, and hundreds of firefighters fought desperately to save the tower housing the massive 30-ton bell, conspiracy theories were circling the globe. and many tried to incite others to think that way.
Several days later this was still going on even while it was being reported in the press that the fire was caused by a wiring glitch or construction accident. This, however; was no accident and this is not good at all. That much is certain. But a violent reaction must be avoided at all costs by Christian church leaders and their parishioners. The battle has been joined and the fight belongs to God who said, "I will fight for you. Be still and know that I am the Lord thy God." I cannot erase the image of a statue of Christ I saw that was splattered with the blood of innocent's in God's house. It is unlikely anyone else who saw it will either but, "Vengeance is Mine," sayeth the Lord.
Jesus Christ told us that if they tore down the Temple He would rebuild it in 3 days and He kept his Word. A church is a sanctuary and a place of worship but Jesus Christ is the Church of God. Not Notre Dame or any other church. It's downright insane for people who hate Christians to think that simply blowing up one church, or even a thousand churches, will accomplish anything.
Is it meant to strike fear and doubts about one's religion into the hearts of the weak and the vulnerable? Yes. But why do they look in buildings for Christ and for God's church, when we know that our Redeemer lives? The church they are searching for is Jesus Christ Himself, and He has Risen. He is Risen indeed.
There must be a peaceful outcome to all this before it gets out of hand. There has to be a way of resolving it without further violence and bloodshed. We have no religion as Christians. We follow the teachings of Jesus Christ and we try only to love our neighbors and do as Jesus would have us do so we don't go to Hell. So there's no reason for hatred against Christians and no Christian should return hate for hate or demand an eye for an eye because that is exactly what they want is for the "Infidels" to abandon the Word of God at the drop of a grenade pin. No Christian should allow themselves to be drawn into that trap. No Christian should take part in any kind of hate speech, or show up to support live streaming hatred, or pass it along on social media sites. Instead, we must rebuild those damaged churches and repair the rift that has been blown open by this despicable act and stand in solidarity with He who died for us and who will fight this battle for us. This He has promised and His promises are faithful.
The purpose of a terrorist is to get a reaction from the target. To demoralize them and make them question their faith. If they want the churches that bad then I say burn them all down to the foundation and still the foundation remains. The keystone of Christianity is Christ Jesus, not a building made of wood, bricks, and mortar. I would rather sit under a tree in the park on a Sunday morning and hear the word of God or congregate in the street than to allow some fool to think that destroying the church of Christ is that simple. Wherever two or more of you are gathered in His name He is there with you. That is the church of Christ and it will never be destroyed by anyone.
What man can stand up to an Archangel and do battle with Michael or Gabriel? You? Your brother-in-law who talks tough? The Incredible Hulk? Superman? You might do mighty works in the sight of God but can you make the sun wink out? Can you stop the rain from falling, turn the tide away, or hold back the Northwind?
It has been foretold for centuries that this would happen one day and the day has come. Putting on the armor of God does not mean we are to go out and do battle with other faiths or other gods but that we as Christians stand fast in our faith shielded from the enemy by the Word of God. The first commandment is Thou shalt not kill. This commandment does not, like the laws of men often do, carry a proviso that says, except… It says Thou Shalt NOT Kill. Period. Any man who hates his neighbor is guilty of murder in the eyes of God and nobody with blood on their hands shall enter the kingdom of Heaven. It's that simple and God said so. There are no exceptions.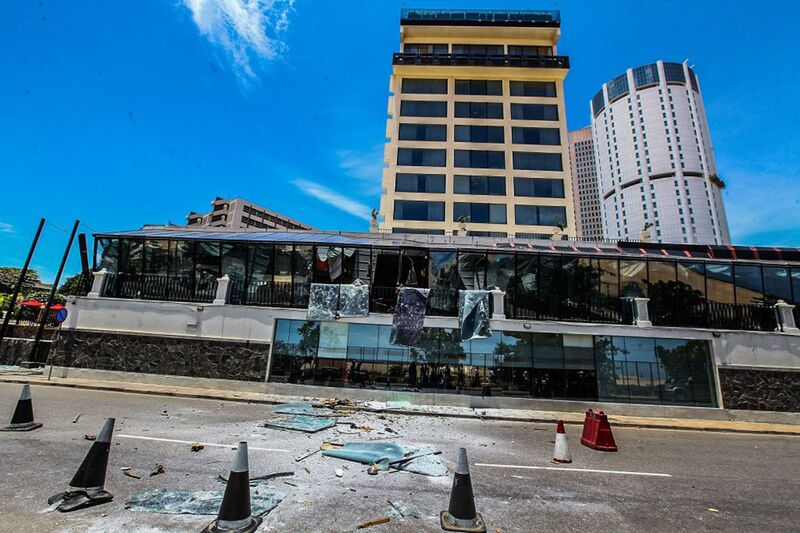 If you take up the battle cry and spread hatred for this or for any reason then you are no better than the enemies of God. It is He alone who stands against them and against whom those enemies have no hope of victory. If you wish to damn your enemies then do so by turning the other cheek and praying for them, thereby heaping burning coals upon their heads. It's a crying shame that it has come to this point but we knew all along it was inevitable and now it is upon us like it or not. What they do is on them. How Christians react to it is on them as well and God will not forgive anyone who kills in His name.
I believe that the fire at Notre Dame may have been an accident. It is not world news if my house burns down nor does it suggest that it burned due to arson. Given the age of the cathedral and the ancient "forest" of the roof structure itself, it is hardly surprising that it went up as it did. In fact, it was to be expected in the event of an accidental fire. Showing unclear videos of people walking around on the roof and flashing lights proves nothing except that the person who posted them has some unholy agenda to pursue that they want to drag you into to support their own need to hate and give it justification. There is no justification for religion-based hatred and jumping to such conclusions is the surest shortcut to Hell.
Be angry as you should. Be outraged, as well you should be. Be disgusted, shocked, and horrified, as I am. Be whatever floats your boat. Speaking as an ordained minister of God, you should be overjoyed that these people, whoever did this, have ensured the day of the Lord is at hand. But don't you dare pick up a single stone with the name of Jesus Christ in your mouth and throw it lest you be numbered among the goats in the end. Hold your peace and faith in God but don't play the terrorist's game and don't even pretend to defend God in a battle that He has told you is His from the start.
If you really want to pull the rug right out from under a terrorist and hurt their feelings all you have to do is act like it doesn't matter no matter what they do or how hard they try. Laugh at their foolishness as they hop about like grasshoppers and brazenly challenge God to a fight. Compared to Armageddon the bombing of a few churches amounts to nothing in the grand scheme of things, does it? Do you not know? Have you not been told all of this would come to pass since the beginning of time? Don't play their game. Their fight is with God and the battle has been joined. Even so, let it be.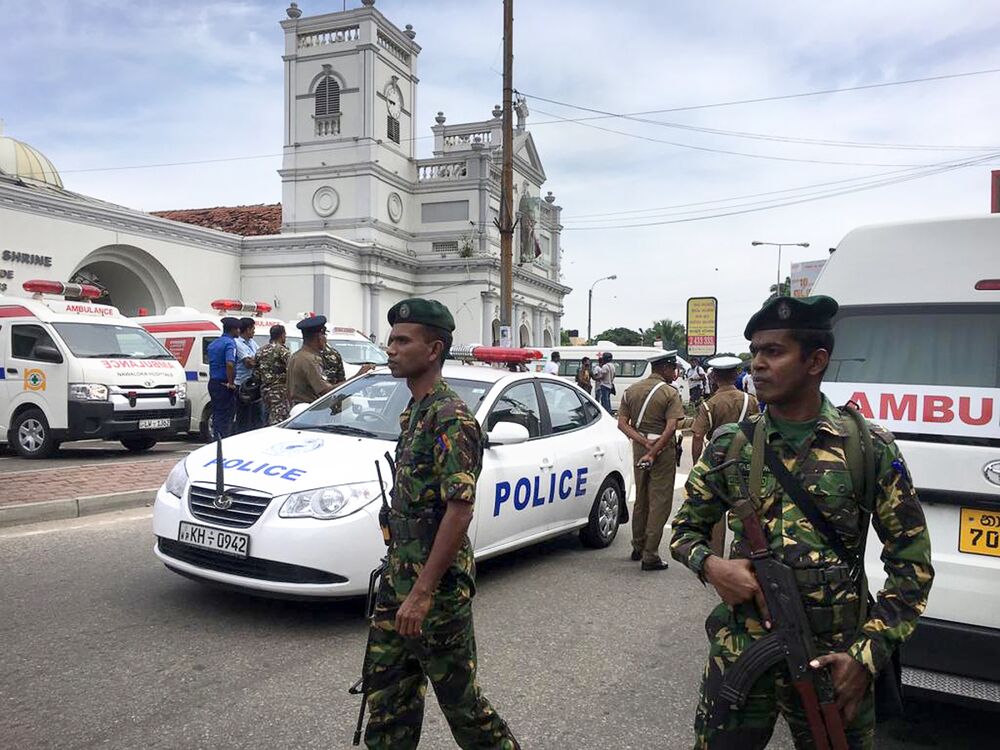 An emergency meeting of the National Security Council has been called
to begin the investigation into those responsible for the attacks.