Greetings sports fans and welcome back to another scathing edition of Vegas Valley Sports Beat. That daring little column that dares to tell Jack Dorsey. Come at me, bro. I find myself facing a conundrum rooted in the law that has to come down to a question of one's personal ethics.  Personally, I have no problem with publishing this thread from Twitter, but there's a little matter of publishing someone else's likeness without their permission. I have to see it from the other side of the coin wherein he put it out there already, so I can only presume he'd be tickled to take his thread a little further as that was clearly his intent in publishing it on Twitter. This is my retweet so deal with it, Jack. In any event, I can argue if I have to that fair use permits it by implication alone.
I can't ask for Mr. Holden's permission because Jack Dorsey is censoring me for 7 days for telling the truth. Joe Biden is going to Fort Leavenworth at some point in the very near future and his puppet show with him. I am most certainly of sound mind and body and I do not call someone a traitor of all things if it's not true and I know it to not be true. If President Donald Trump whom I still did not vote for, in 2016 had done this same crap or anything like it, I would say the exact same thing because it'd still be true.
We do not value facts over the truth we value only that which is true based upon the evidence that proves it to be true. The truth, Joe Biden said we value facts over the truth and he lies to our faces in the same breath. What do we learn from that?
Now, without further ado…
We've got to talk about the Rolling Stone Ivermectin article. Turns out the story about rural hospitals so flooded with ODs that they couldn't treat other patients was made up, entirely invented. A lot of people took the bait, and I've got the screenshots.
First, for context, here's the original piece from @RollingStone and the follow-up from the actual hospital saying the story was BS and that the one (one!) person the story quotes doesn't work at that hospital anymore, (and hasn't in months).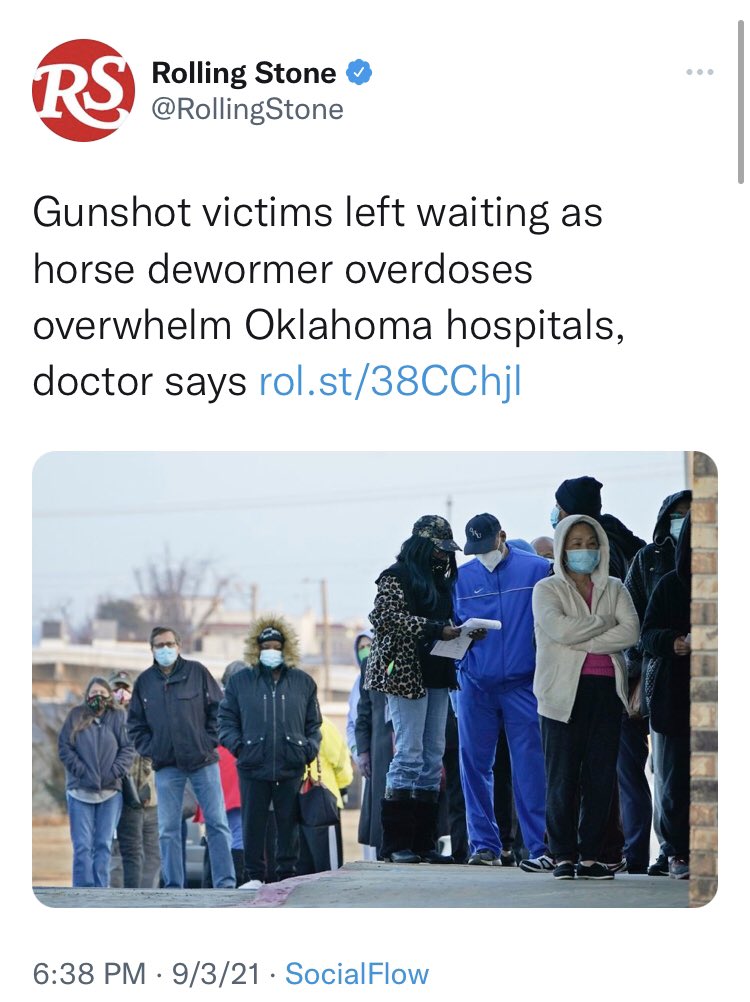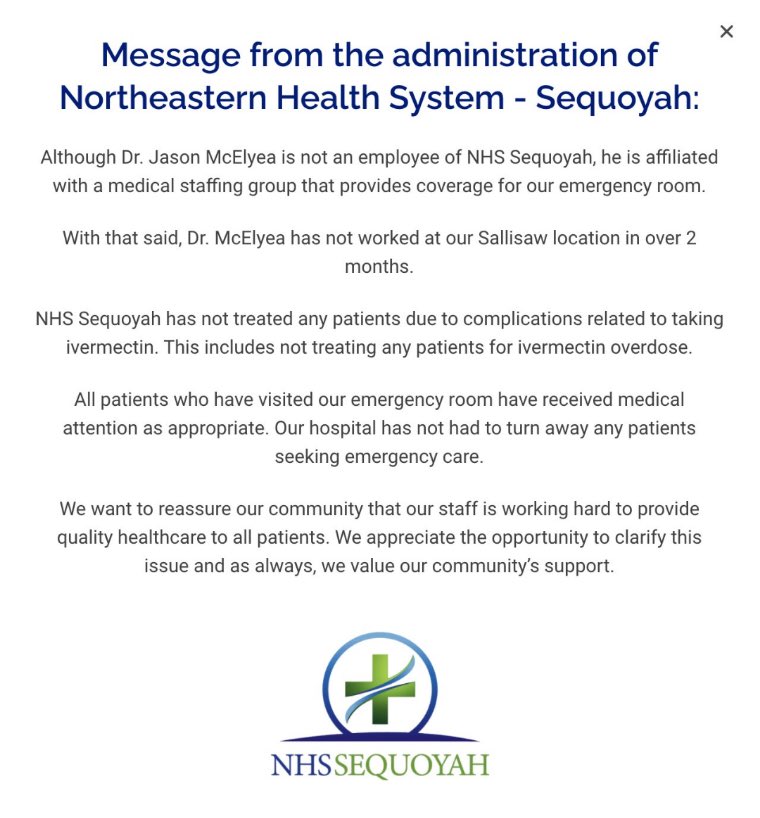 But it wasn't just a single story out in the ether. Plenty of other places picked up the story, too, with no additional sourcing or research. Here's @BusinessInsider  @thecherylt   parroting the scoop that wasn't true, to begin with.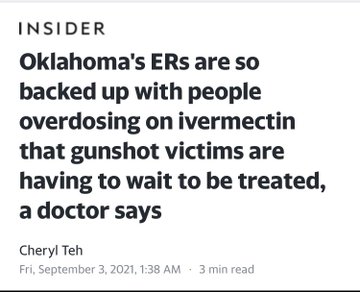 But the real champion of this tall tale was
@MSNBC 
@maddow
had a tweet about it that went viral. She's got an audience of millions of people and couldn't be bothered to even look into a story that pretty obviously doesn't pass the sniff test.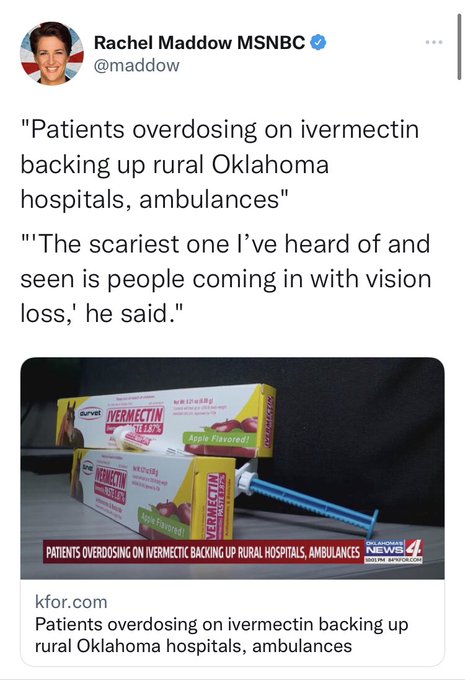 Then @briantylercohen pushed a baseless lie on a show called "No Lie" is really just a little too on the nose. @NoLieWithBTC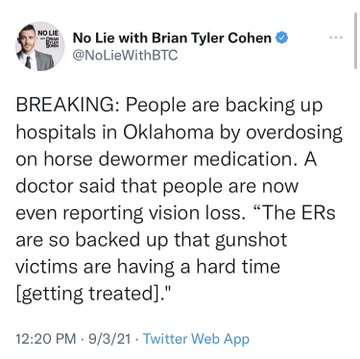 We even had an executive producer from MSNBC push the story that wasn't. @laurenpeikoff
You know what's a good way to not be derisively referred to as "fake news"? Stop pushing fake news.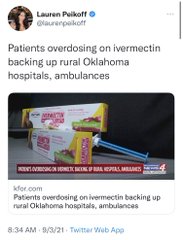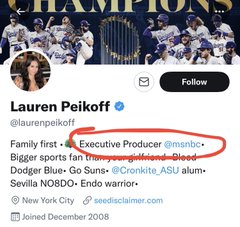 For some reason, British outlets went all-in on this one, too. Will we get any apologies from @guardian  or @DailyMailUK?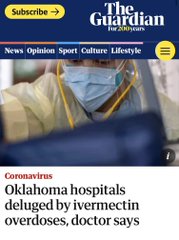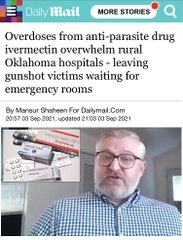 I just really don't understand why seemingly real news outlets – like @Newsweek @NYDailyNews  and @thehill – didn't bother to even look into this story before they pushed this narrative?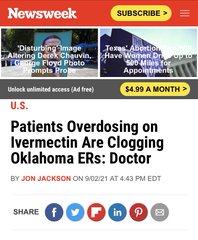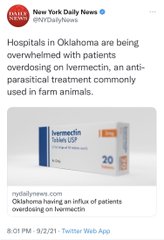 Didn't it sound odd? Wasn't it worth investigating? Maybe a single phone call?
Needless to say, a certain variety of Twitter bluecheck couldn't help themselves on this story. Here's @shannonrwatts of Moms Demand Action.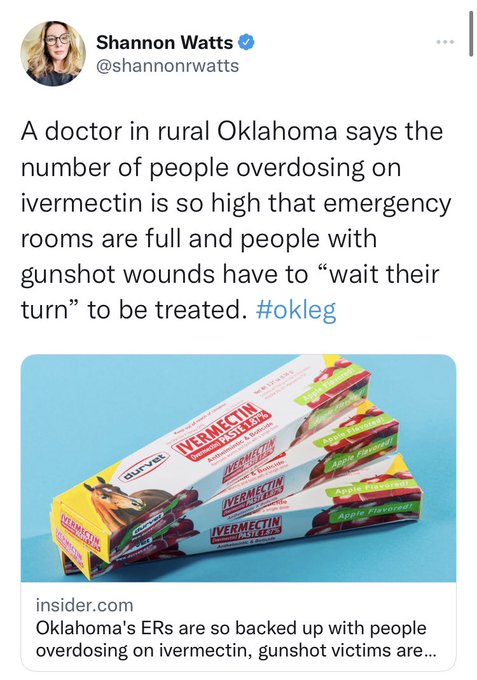 This sentiment was pretty widespread because it just fit the narrative perfectly – "look at these dumb hicks and their horse medication!" right, @dabeard?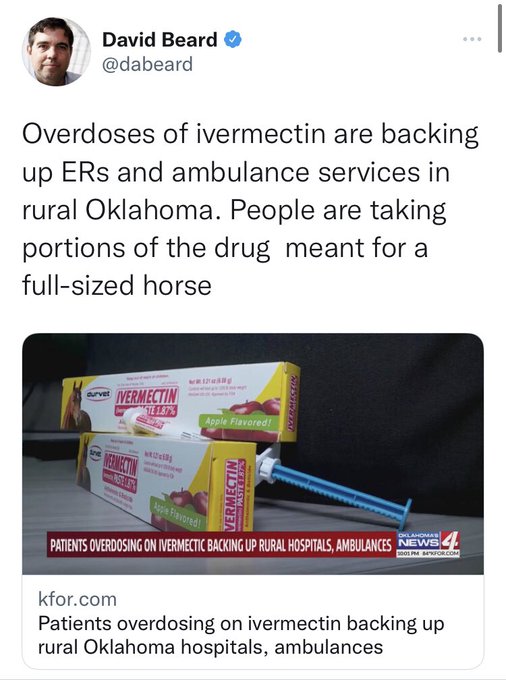 @DrJasonJohnson
took the conspiracy theory a step further, suggesting that Senator Inhofe was somehow profiting (?) from the situation that wasn't actually taking place. Dr. Johnson, I think you owe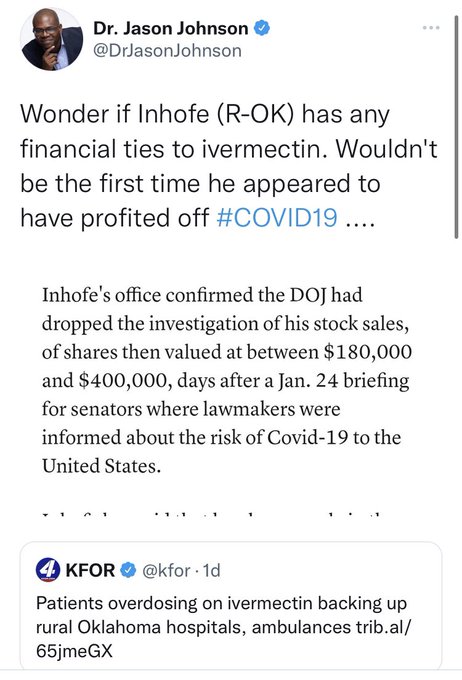 And plenty of actual bad actors got involved in pushing this one, too. I don't know how @DrEricDing  hasn't been kicked off of Twitter by now. He's a bottomless well of misinformation.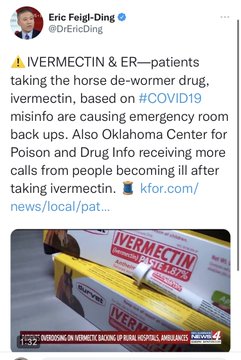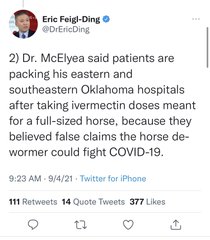 He's got me blocked but @joncoopertweets continues to be one of the worst, most dishonest people on this platform.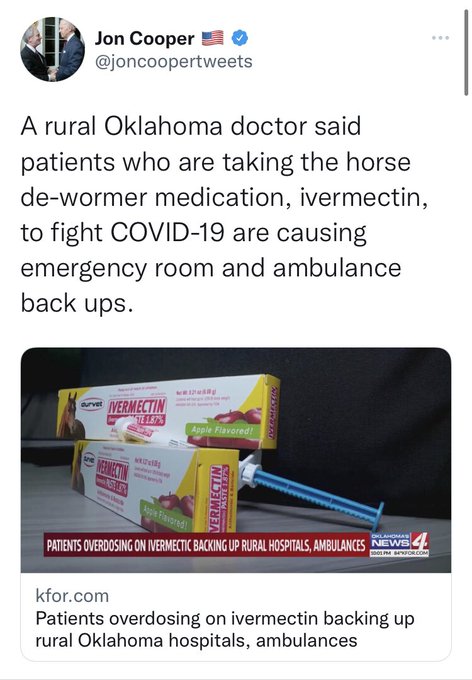 Obligatory @kurteichenwald mention.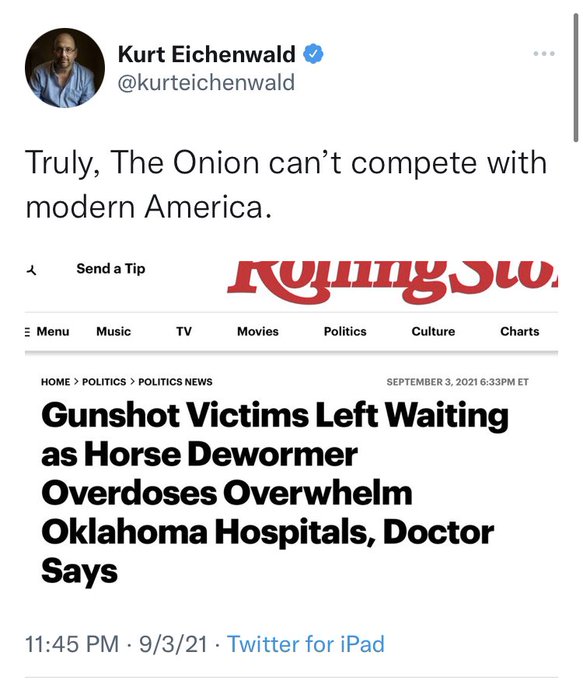 I won't pretend I expected much from either @dailykos or @OccupyDemocrats but both of these are pretty egregious.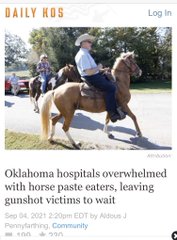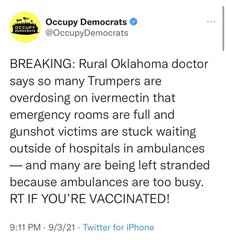 I don't usually include people who aren't verified but I couldn't resist this one. @RVAwonk is a postdoc studying "mis/disinformation" and had a whole thread actively pushing disinformation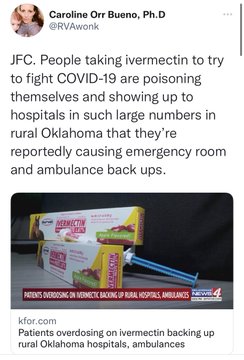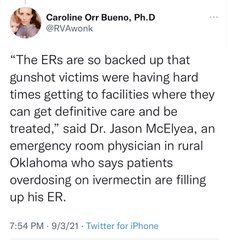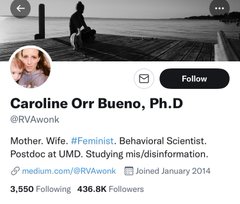 There were simply too many people to break each of them out as their own tweet.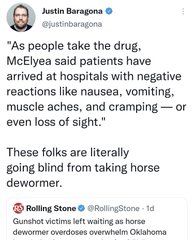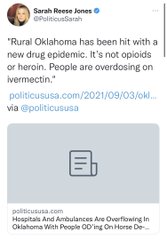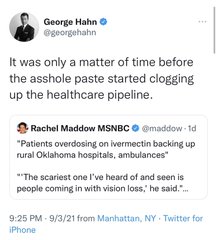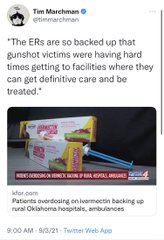 See what I'm saying? @mims @EoinHiggins (quickly becoming a thread favorite) @GidMK  ("health nerd") @AngryBlackLady (this is definitely an illustrative example of something, just not the thing that you think it is)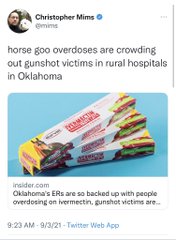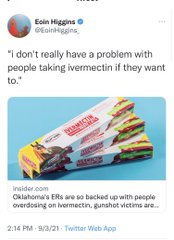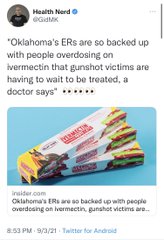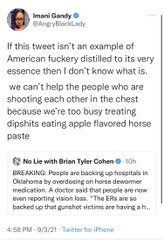 I'm running out of space and patience but one last four-box: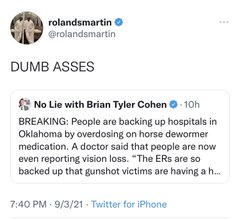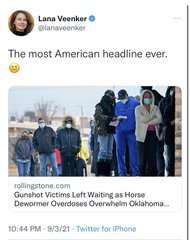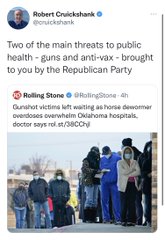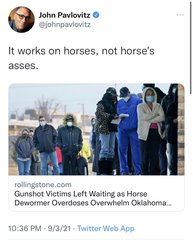 It should go without saying, but inventing a narrative out of thin air simply because it confirms your priors is not going to help rebuild trust in the media. It would've taken a single phone call to shoot this story down. Why didn't that happen?
And the same people who purport to be concerned about misinformation and how it spreads on platforms like Twitter will surely be silent on this. Where's the gnashing of teeth from the "disinformation" reporters? Where are the Twitter content warnings? Where's the outrage?
You won't hear any. Because this is the acceptable type of political lie. And none of these people or outlets will learn anything. They'll keep doing this. Because they care more about scoring cheap dunks on their opponents than getting the truth. For new folks/those asking, I don't have anything to sell or subscribe to. But if you're able, food banks remain in desperate need of support. For those in DC (or otherwise) I think Capital Area Food Bank does great work.
<AUTHORS NOTES>
Leave no American behind let none go hungry. But for the grace of God, you could be in their shoes today. Think on that. You can always give of yourself if nothing else. Lend a hand. A smile can change a life that can change the world.
I avow that to the best of my knowledge, we do not profit from this column or from publishing Drew's Thread. I know I don't get paid for it. I know that I meaning we at VVN would be remiss not to repost it as that was the intention of posting it on Twitter.
Tweet tweet, grasshoppers. One grown Mustard tree has many branches that give life, and shelter to a billion birds. I'm just another Mocking Jay whistling in the wind. You retweet it your way and I'll retweet it mine. Any profits that do come from this if any had better find their way to Feed America or like charity and I have all faith they will.
At this point in my Journalistic career, I am not about to take a paycheck for it as that's precisely what has brought us to this point. Journalistic integrity is still being bought and sold for brownie points to Communist propagandists on the open market. Turn on your TV and there they are on the 6 O'clock news. Or whatever news and they're all saying the same thing word for word in many cases. That is evil in action.
AND NOW…
THE REST OF THE STORY.
Ivermectin
Last Updated: February 11, 2021
Ivermectin is a Food and Drug Administration (FDA)-approved antiparasitic drug that is used to treat several neglected tropical diseases, including onchocerciasis, helminthiases, and scabies.1 It is also being evaluated for its potential to reduce the rate of malaria transmission by killing mosquitoes that feed on treated humans and livestock.2 For these indications, ivermectin has been widely used and is generally well tolerated.1,3 Ivermectin is not approved by the FDA for the treatment of any viral infection.
Proposed Mechanism of Action and Rationale for Use in Patients With COVID-19
Reports from in vitro studies suggest that ivermectin acts by inhibiting the host importin alpha/beta-1 nuclear transport proteins, which are part of a key intracellular transport process that viruses hijack to enhance infection by suppressing the host's antiviral response.4,5 In addition, ivermectin docking may interfere with the attachment of the severe acute respiratory syndrome coronavirus 2 (SARS-CoV-2) spike protein to the human cell membrane.6 Ivermectin is thought to be a host-directed agent, which may be the basis for its broad-spectrum activity in vitro against the viruses that cause dengue, Zika, HIV, and yellow fever.4,7-9 Despite this in vitro activity, no clinical trials have reported a clinical benefit for ivermectin in patients with these viruses. Some studies of ivermectin have also reported potential anti-inflammatory properties, which have been postulated to be beneficial in people with COVID-19.10-12
Some observational cohorts and clinical trials have evaluated the use of ivermectin for the prevention and treatment of COVID-19. Data from some of these studies can be found in Table 2c.
Recommendation
There is insufficient evidence for the COVID-19 Treatment Guidelines Panel (the Panel) to recommend either for or against the use of ivermectin for the treatment of COVID-19. Results from adequately powered, well-designed, and well-conducted clinical trials are needed to provide more specific, evidence-based guidance on the role of ivermectin in the treatment of COVID-19.
Rationale
Ivermectin has been shown to inhibit the replication of SARS-CoV-2 in cell cultures.13 However, pharmacokinetic and pharmacodynamic studies suggest that achieving the plasma concentrations necessary for the antiviral efficacy detected in vitro would require administration of doses up to 100-fold higher than those approved for use in humans.14,15 Even though ivermectin appears to accumulate in the lung tissue, predicted systemic plasma and lung tissue concentrations are much lower than 2 µM, the half-maximal inhibitory concentration (IC50) against SARS-CoV-2 in vitro.16-19 Subcutaneous administration of ivermectin 400 µg/kg had no effect on SARS-CoV-2 viral loads in hamsters. However, there was a reduction in olfactory deficit (measured using a food-finding test) and a reduction in the interleukin (IL)-6:IL-10 ratio in lung tissues.20
Since the last revision of this section of the Guidelines, the results of several randomized trials and retrospective cohort studies of ivermectin use in patients with COVID-19 have been published in peer-reviewed journals or have been made available as manuscripts ahead of peer review. Some clinical studies showed no benefits or worsening of disease after ivermectin use,21-24 whereas others reported shorter time to resolution of disease manifestations that were attributed to COVID-19,25-27 greater reduction in inflammatory marker levels,26 shorter time to viral clearance,21 or lower mortality rates in patients who received ivermectin than in patients who received comparator drugs or placebo.21,27
However, most of these studies had incomplete information and significant methodological limitations, which make it difficult to exclude common causes of bias. These limitations include:
The sample size of most of the trials was small.
Various doses and schedules of ivermectin were used.
Some of the randomized controlled trials were open-label studies in which neither the participants nor the investigators were blinded to the treatment arms.
Patients received various concomitant medications (e.g., doxycycline, hydroxychloroquine, azithromycin, zinc, corticosteroids) in addition to ivermectin or the comparator drug. This confounded the assessment of the efficacy or safety of ivermectin.
The severity of COVID-19 in the study participants was not always well described.
The study outcome measures were not always clearly defined.
Table 2c includes summaries of key studies. Because most of these studies have significant limitations, the Panel cannot draw definitive conclusions on the clinical efficacy of ivermectin for the treatment of COVID-19. Results from adequately powered, well-designed, and well-conducted clinical trials are needed to provide further guidance on the role of ivermectin in the treatment of COVID-19.
Monitoring, Adverse Effects, and Drug-Drug Interactions
Ivermectin is generally well tolerated. Adverse effects may include dizziness, pruritis, nausea, or diarrhea.
Neurological adverse effects have been reported with the use of ivermectin for the treatment of onchocerciasis and other parasitic diseases, but it is not clear whether these adverse effects were caused by ivermectin or the underlying conditions.28
Ivermectin is a minor cytochrome P 3A4 substrate and a p-glycoprotein substrate.
Ivermectin is generally given on an empty stomach with water; however, administering ivermectin with food increases its bioavailability.
The FDA issued a warning in April 2020 that ivermectin intended for use in animals should not be used to treat COVID-19 in humans.
Please see Table 2c for additional information.
Considerations in Pregnancy
In animal studies, ivermectin was shown to be teratogenic when given in doses that were maternotoxic. These results raise concerns about administering ivermectin to people who are in the early stages of pregnancy (prior to 10 weeks gestation).29 A 2020 systematic review and meta-analysis reviewed the incidence of poor maternal and fetal outcomes after ivermectin was used for its antiparasitic properties during pregnancy. However, the study was unable to establish a causal relationship between ivermectin use and poor maternal or fetal outcomes due to the quality of evidence. There are numerous reports of inadvertent ivermectin use in early pregnancy without apparent adverse effects.30-32 Therefore, there is insufficient evidence to establish the safety of using ivermectin in pregnant people, especially those in the later stages of pregnancy.
One study reported that the ivermectin concentrations secreted in breastmilk after a single oral dose were relatively low. No studies have evaluated the ivermectin concentrations in breastmilk in patients who received multiple doses.
Considerations in Children
Ivermectin is used in children weighing >15 kg for the treatment of helminthic infections, pediculosis, and scabies. The safety of using ivermectin in children weighing <15 kg has not been well established. Ivermectin is generally well tolerated in children, with a side effect profile similar to the one seen in adults. Currently, there are no available pediatric data from clinical trials to inform the use of ivermectin for the treatment or prevention of COVID-19 in children.
Clinical Trials
Several clinical trials that are evaluating the use of ivermectin for the treatment of COVID-19 are currently underway or in development. Please see ClinicalTrials.gov for the latest information.
References
(Sic)
WEBPAGE REPRINTED AS IS WITHOUT EDITS OR CHANGES OF ANY KIND IN COMPLIANCE WITH FEDERAL LAW AND THE FIRST AMENDMENT.