Take A First Look At A Second Book.
Vegas Valley News Reviews A Dress The Color Of The Moon, By Jennifer Irwin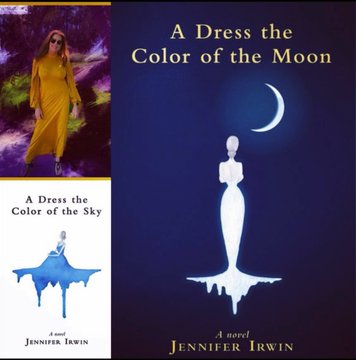 Greetings sports fans and welcome back to a long-overdue special edition of Vegas Valley Sports Beat. The saucy little sports column that can. Can what, you ask? Don't ask.
It was an unseasonably beautiful day here in the lush Las Vegas Valley region today so if you were stuck indoors working all day my heart goes out to you.
Today we turn our attention to a book review that in my unsolicited opinion is long overdue. After having reviewed first-time author Jennifer Irwin's breakout novel, A Dress The Color Of The Sky I was over the moon when Jennifer offer to send me a copy of the sequel titled A Dress The Color Of The Moon just before the book's official launch date.
I was even more than thrilled when an autographed copy of the new book arrived in my mailbox shortly thereafter. Even more thrilled again was I to discover that it was autographed. I then had to request a PDF file copy of the book from Jennifer, however, because I simply cannot bring myself to crack the spine of the one she sent me.
I'm proud to call Jennifer a very dear friend, so she sent me the PDF file PDQ, and I read all  358 pages voraciously in only two sittings over three days.
With book sequels, the author doesn't always retain the same narrative voice. There's not always a seamless transition from the first book to the next. That can be caused by any number of external influences that come with the level of literary success that Jennifer enjoyed with her first offering. And rightfully so. It stands out as a first novel and that is due chiefly to the unique narrative voice of her main character, Prudence Aldritch. A woman whose life is better understood if one reads about it firsthand rather than to have it described to one by a reviewer. That makes A Dress The Color Of The Sky a must-read but in my mind it always was a must-read, to begin with.
This being Jennifer's second book I wondered if the narrative voice that brought Prue Aldrich to life in the first book would sound same in the second book. As I begin to read the first page, dear Prue's voice came through loud, clear, and in true Prue. That was the first thrill of discovery, while the rest of the thrills in store for the reader are masterfully blended into one in her unique style of storytelling. Jennifer Irwin is a literary sorceress who weaves her written spell over the reader and captivates them from the beginning until the very end.
A Dress The Color Of The Moon picks up where the first book left off. It's as though mere seconds have passed rather than years, and then Jennifer immediately delves deeper into Prudence's interpersonal relationships with the people around her. People whom we soon learn have the same clay feet that most of us share. People who seem to have it together on the surface that we come to see are dealing with their own issues beneath the surface.
One minute you think you know where the story is going, only to read on further where you discover that there are deeper underlying issues in play and sub-plots that you don't expect. Prue's friend in rehab, Gloria committing suicide for instance came as a complete shock and I wandered through the next several chapters seeking clues as to how such a beautiful life came to such an unhappy ending.
Along the way, Jennifer Irwin skillfully leads you back and forth through time by using the first, second, and third person narrative voices at her command. Words she strings together to cast her magical spell. You are made to reflect inwardly, to think outwardly, to laugh out loud, and even shed a tear or two like during Gloria's memorial service. The tragedy of Gloria's story is that it's as real as any given work of non-fiction in that Gloria could be any one of a million women carrying around their own grab-bags full of invisible demons.
Haunted and hounded by monsters that have grown from violent physical, sexual, and mental abuses that were heaped upon them in secret under the cover of darkness. Monsters that all too often come wearing a false mask of trustworthiness. Abuses that are, in far too many cases, known only to the victims themselves and perhaps their closest friends. People whom we learn here are oftentimes caught in the nightmare themselves with no way out and nobody they can turn to.
Jennifer's main character, Prudence has an outstanding flair for turning a funny phrase in the face of extreme adversity, and that brilliant resilient quality shines through once again in A Dress The Color of The Moon. The way Prue places emphasis on personal relationships with her friends and her son shows at her head might still be healing from a lifetime of abuse and neglect, but she is bound and determined to overcome her addictions and be the better for it. Prudence Aldrich might seem at times to be a little flighty but her feet are clearly grounded firmly in the Earth.
I've heard rumors that a third book is a possibility, so perhaps the title A Dress The Color of The Sun is suggested by the yellow dress the author is now wearing in her Twitter profile picture. No matter, a dress by any other color would still be just as bittersweet as the ongoing tale of recovery and hope laid out in the pages of these two outstanding novels.
Quite a stunning yellow dress BTW.
Even if there never is another chapter written in the life of Prudence Aldrich, multiple award-winning author Jennifer Irwin, has engraved her characters indelibly upon the hearts of many broken people in the world already. Prue stands tall upon the world stage and shines through a lifetime of unspeakable tragedies as a beacon of hope for all people suffering from their own forms of addiction with the message that you are more than equal to all things, but nothing is equal to you.
If you're going through Hell, Winston Churchill, and I would advise you to keep going. If you're in a hole common sense would tell you to stop digging. If you're standing on a ledge perhaps Prue's example will make you step back and take another look at yourself in a whole new light. If you think you're alone, and beyond help, believe that you are not. If you think no one cares, you should know that you are wrong. If you think you cannot be whole again, take heart because you can. Jennifer Irwin beautifully points out how that is all within you, but meaningful, and lasting change doesn't happen overnight.  It takes patience, courage, personal fortitude, and persistence but it works if you work it. Never give up, never give in, never settle for less than complete victory over your past, never retreat, never surrender, never let anything external change who you are inside.
From Prue, we can learn that no matter who, or what might come and go, whatever slings, and arrows might be flung at you from unexpected sources, still, you remain. Broken but not undone. Only the broken can evolve and Prudence Aldritch is evolving beautifully in the midst of it all. To me it's beautiful and insightful to see her healing herself by playing an active role in her own recovery, and how it affects those around her both negatively and positively.
Again I give Jennifer Irwin five stars out of five for her novel A Dress The Color Of The Moon, and official kudos for another job well done. I wish to say thank you so very much for allowing me the singular honor of reviewing this literary phenomenon, and thank you so very kindly for sending me my very own copy. You are a superhero in my book, and I will treasure it always.