BREAKING NEWS! 10 REPORTED DEAD IN SANTA FE, TX HIGH SCHOOL SHOOTING

Dimitrios Pagourtzis-Galveston County Jail 05/18/2018 galvestonsheriffsoffice
STUDENT SETS EXPLOSIVES AND OPENS FIRE INSIDE OF SANTA FE HIGH SCHOOL.
10 FATALITIES HAVE BEEN CONFIRMED BY COUNTY SHERIFF INCLUDING 1 TEACHER. 10 CONFIRMED WOUNDED.
Authorities say they are very concerned about what they have found so far. The suspect's home has been surrounded and cordoned off while bomb squad searches for explosives.
Law enforcement officials have identified the person in custody in the shooting as 17-year-old Dimitrios Pagourtzis. It has also been reported that the shooter had communist and ANTIFA symbolism on his jacket.
Texas Governor, Greg Abbott stated that there were two police officers on campus when the shooting began and they were able to respond to the shots immediately. He then said that unlike Parkland, and other school shootings there were no tell-tale warning signs like we've seen in so many other shootings. Governor Abbott also stated in that press conference that the suspect had no previous police record.
That's rather odd. Just a few minutes prior to this statement. I saw and heard Governor Abbot say that the suspect had posted threats about shooting up the school and then kill himself on social media. WTF? Over.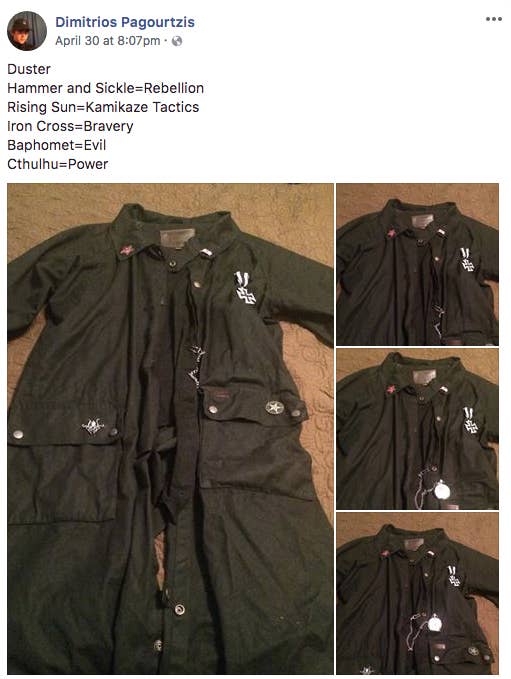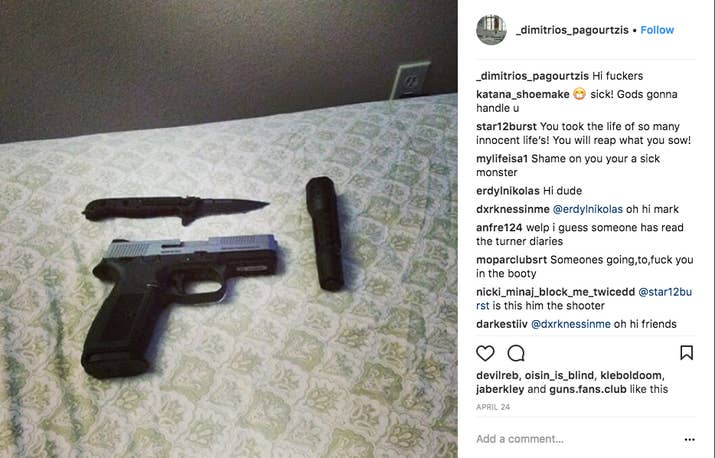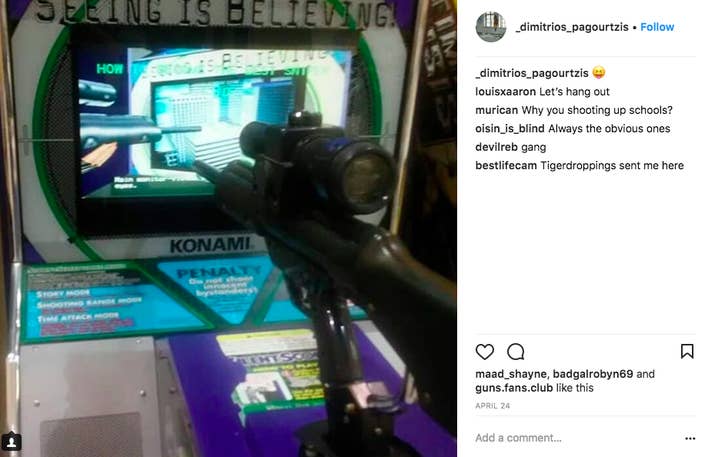 The Galveston County Sheriff's Department has filed charges of capital murder against Pagourtzis.
Police say they have one suspect ( Pagourtzis) in custody and two other students have been detained as persons of interest due to the manner in which they responded to questions from police officers and because of the way they acted in the minutes immediately following the shooting. The Galveston County Sheriff's Department has asked that anyone who has any information whatsoever regarding this incident and the actors involved in it please call (409) 972-3310 to report said information at once.
 Galveston County Sheriff, Henry Trochesset.
According to reliable sources, Dimitrios Pagourtzis, or possibly another person who may have been involved in the incident set off the fire alarm and then opened fire on the student's as they emerged from classrooms. Leila Butler, Santa Fe High School student said; "We knew that something was much more wrong than just a fire."
A survivor of the mass shooting told a reporter at the scene she was not surprised by the violent act.
"It's been happening everywhere," the Santa Fe High School student told ABC13's Foti Kallergis. "I've always kind of felt like eventually, it was going to happen here too. I wasn't surprised, I was just scared," she said.
Just this past month the students at Santa Fe High School held a walkout to show solidarity with the students and victims of the Valentines Day shooting at Marjory Stoneman Douglas High School in Parkland, Florida where 17 teachers and students were killed by the alleged shooter, Nikolas Cruz. #MSDStrong.
Some of the victims injured in the shooting including the school resource officer have been transported to the Clear Lake Regional Medical Center. One police officer has been reported among the wounded That police officer has been identified now as Officer John Barnes who is currently undergoing emergency surgery for a serious injury to his upper arm which was caused by a shotgun blast from the weapon of the shooter. His condition is reportedly critical.
Officer Barnes was first sworn in in May of 1995 and he retired from the force in January of this year. Just prior to the Valentine's Day shooting in Parkland.
Anyone who is seeking to learn the status of a loved one who has been injured or whom may be unaccounted for at home can call the  hospital operator at; (281) 332-2511
Or contact the Galveston County Sheriff's Department at:
Stay tuned to this outlet for updates as they come in.
b NEWS reporter, Dialynn Dwyer, FOX NEWS, the Galveston County Daily News,  ABC NEWS and ABC NEWS reporter, Foti Kallergis contributed to this report.
David Hogg has, as usual, been no help whatsoever.